. . . where we have fun . . .
lots and lots of it!

Prince Philip Centre - Leeds


COME AND JOIN
PRINCE PHILIP CENTRE PHAB CLUB LEEDS
SCOTT HALL AVENUE, LEEDS LS7 2HJ
REGISTERED CHARITY NO 500883


PHAB is an all-age club for people of all ages, with and without a disability. Members live in all areas of Leeds. Volunteer drivers collect members from their homes in PHAB's own specially adapted minibuses.
Friday night is PHAB night with a variety of activities, including sport, crafts, discos and bingo. We also have residentials and outings throughout the year.
We are volunteers. We have some fund raising events … to keep us going.
Our aim is for everyone to forget about disability and illness and have fun.
We call ourselves the PHAB family!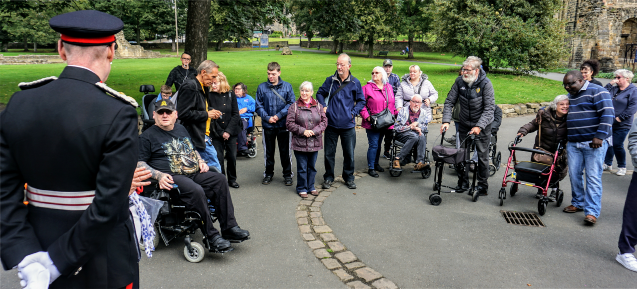 'Phab is a
National Charity
creating opportunities for children and adults of all abilities to enjoy life together.
It promotes and encourages self-confidence and independence in people of all abilities through a range of projects.'
Prince Philip Centre PHAB Club having fun during a sponsored wheelchair push
at Kirkstall Abbey, Leeds
Please Donate!
CAN YOU HELP PLEASE?
Voluntary Drivers Wanted Urgently!
PLEASE LOOK HERE!
Search the site by typing into the panel above
Please help us financially
Please donate - all contributions - no matter how small - are very much appreciated.
It really does help us - no matter how small the donation.
There are many ways by which you can help . . .
Good news - our club is re-opening on Friday 17th September 2021, 7.00 – 9.00 pm
Initially we plan to open fortnightly, then close for Christmas on 10th December.
We ask all visitors to observe the following guidelines.
 We will be observing social distancing – both on the PHAB transport and in the Club.
 Members using PHAB transport will be contacted to let them know the days when they will be collected.
 If you can make your own way into the Club and back home again you will be very welcome.
However, everyone is asked to follow these rules:
 Everyone coming to PHAB must have had two Covid-19 Vaccinations.
 Everyone is asked to take a Lateral Flow Test on the morning of a visit to PHAB
(these can be obtained free from a number of places including your pharmacist).
 You can only come if the test is negative.
 Everyone must wear face coverings on the vehicles and in the Club.
 If you feel ill, or test positive, you must not come to PHAB.
 Let us know if you have any problems about this information.
We are looking forward to seeing everyone again soon.